History
1952
The company was founded by Jan van den Borne in 1952. Before then, he and his wife Anna had a fruit orchard in Postel. He also worked for Jef Mertens. Jef Mertens had a mixed company just on the border between Reusel and Postel at the Reusels Huiske. He had livestock and grew cereal seeds. In 1952 Jan van den Borne was able to take over Jef Mertens' farm. Jan continued to cultivate sowing grains and started mechanization. He mowed with the tractor and self-tie. Then everything was put on riders to let the grain dry. A few weeks later, these riders were stacked in large mites or under umbrellas so that they could be threshed in the winter.
He also started growing peas. These were cut by hand and driven to the factory on wagons. The pea plants were threshed there.
1965
Jan bought his first combine in 1965, which enabled him to expand his acreage considerably. He also started growing sugar beets for the sugar factory.
1970
Around 1970 Jan also started growing potatoes of the Saturnas variety for the potato chips industry (Golden Wonder). These were mechanically grubbed and sorted together with a few other farmers.
1972
In 1972 Jan built a new farm in Reusel for Anna and the children, because he could get electricity and running water here.
1974
Around 1974 the potatoes were grown for Nestlé in Venray. For this he had bought machines together with his brother Janus van den Borne.
1978
In 1978, his son Louis van den Borne took over half of his business. Louis went to live in the farm in Postel with his wife. In 1979, electricity finally came to the Reusels Huiske. The renovation started then, which 5 years later led to the opening of restaurant "De Postelsche Hofstee". The house of Poppeliers (at the Reuselseweg) was also converted into a home for Jan and Anna van den Borne at that time.
1983
Louis Van den Borne stopped growing grain in 1983 and continued growing peas. A year later he also started salsify for La Corbeille. He still grew the potatoes for Nestlé. These were the varieties: Bintje, Mentor and Prominent. These were delivered directly after harvesting. He also started growing autumn seed potatoes. These were planted around August 1 and cleared in early November. In addition, he also grew sugar beet, corn and beans for Jonker Fris.
1987
In 1987 Louis stopped growing potatoes for Nestlé and started growing freely. He built his first potato store and sorting shed and started sorting himself. The lower sizes went to Firb Grobendonk and Dutch potato in Werkendam (now Mc Cain). He sold the 50+ sizes to Farm Frites in Lommel. He brought them with the tractor, first with a 20-ton trailer later around the nineties he bought his first trailer from Theo Bos (now Farmtrans). This allowed him to transport 33 tons at once. The seed potato cultivation had become a spring cultivation instead of an autumn cultivation.
1991
In the early 1990s, a new factory was built by Farm Frites in Lommel (Farmo). This factory was also able to process under size, so we stopped supplying Frima Grobendonk and drove all potatoes to Lommel. The machine park was also greatly improved around 1990. The old Hassia planter was exchanged for a Gruse planter with electronic vibrators. He did the crop protection with a 33 meter trailed Cebeco sprayer. The Wühlmaus harvester had also made way for a Grimme dls 1500 potato harvester. All potatoes were stored in the shed or in 200-ton pits.
1995
In 1995 a new potato storage facility of 4000 tons was built on a fully slatted floor. Potato cultivation became an increasing part of the total area. The machine park has not stood still either. Louis bought a large Fendt to plow with a 5 scissors (circular) plow with a packer and to bring his potatoes to the factory.
New machines were also purchased for planting and harvesting. The planting was done with a Fendt 512 and a Grimme planter. Digging was also done with the Fendt 512 and a Grimme dls 1700 trailed harvester with front flap.
1998
In 1998 spraying and grubbing was further mechanized by doing these operations with self-propelled machines. An AVR self-propelled 4-row harvester and an Agrifac self-propelled sprayer of 39 meters were purchased. The swing plow was also exchanged for a 5-shear reversible plow with a packer and a spading machine with a granulate spreader was bought.
2000
2000 started with the construction of a potato storage facility of 2500 tons. This repository was built exactly between the other barns. A canteen with sanitary facilities was also added.
2004
In 2004 construction started on a new potato shed of 12000 tons. This was delivered in October. As a result of this construction, storage in pits was ended and everything was hired in. The storage shed has ventilation grids and underground aeration channels. The storage computer is completely from Tolsma-Grisnich.
2006
In the spring of 2006 we first started planting and ridging in a working pass. This technique saves us a lot of time and reduces the burden of green potatoes.
The old self-propelled Agrifac was also exchanged for a new self-propelled Agrifac with a larger tank than the old one (4000 liters). The drawn Dammann went well and had no problems after three seasons of spraying. In May 2006 the company was taken over by the two sons of Louis van den Borne. Jacob and Jan van den Borne continued the company together and founded a contracting company (Gebroeders van den Borne). The contracting company carries out all activities for van den Borne potatoes that cannot be split, such as grubbing up and storage.
In the fall of 2006 we bought the first AVR Puma prototype 4 row potato harvester. The old Solanum no longer met our capacity and cleaning requirements. In consultation with AVR, we then decided to test a new machine. Because it was a prototype, we just harvested two machines. The new harvester worked excellently, beyond expectations.
The sorting installation had also grown over the years. To achieve a higher capacity, pre-sorting was already carried out on the cistern, so that only the bottom dimensions had to pass through the sorter. In this way we could sort 70 tons per hour. We had also bought a new hopper for transport to Lommel. These new trailers were much lighter than our old trailers, so we could transport more potatoes with the same total weight.
November 13, 2006
On November 13, 2006 we were hit by a very large fire. This destroyed the new warehouse, including all machines and potatoes. It all started that night just after we had a final inspection of the potatoes at 9:30. After the inspection, we closed all doors and went inside. Well inside we saw that a large blowtorch came from the top hatches. In a panic, we had quickly called the fire department and wanted to save what could be saved. The moment we wanted to enter the first warehouse where all the new machines were, the door handle was already so hot that one of us burns his hands. So we could only watch helplessly until the fire brigade arrived. Fortunately, it was there fairly quickly. At 9 o'clock there were already two fire brigades, but soon it became seven fire brigades.
2007
In the spring of 2007 we started to clean up the burned shed. The entire roof and part of the concrete panels had to be replaced and all the mess had to be cleaned up before we could start rebuilding.
At the beginning of March 2007, the rebuilding of the warehouse started. The renovation was just in time for the new storage season at the end of August. The roof was completely renewed and part of the concrete panels were replaced. The panels were all painted and a fire wall was placed between the two roof parts.
At the beginning of April 2007, spring also broke loose again. Fortunately, all necessary machines that were lost in the fire were delivered on time. A new Puma was also delivered in the fall, including an interchangeable track chassis. This machine had to harvest the entire harvest that year. The two old machines were both lost in the fire of November 13, 2007. Thanks to the further development and improvement of the Puma, we were able to continue the harvest season without any problems.
2008
On January 10, 2008, the entire new laundry was taken into use. Because we had to completely rebuild the burned shed, we decided to build an integrated sorting machine. The old sorter no longer met the capacity and precision. The old barn had also become too small and we could no longer expand. Just before the fire, we had bought two old sorters that we wanted to place in the old sorting shed. After the fire, we decided to renovate both sorters and place them on top of the bunkers in the burned-down shed. The new sorter was also equipped with a laundry. This consisted of a destoner, a washing drum and a cloth dryer.
In the spring of 2008, we mainly invested in larger working widths. This is mainly to achieve more capacity, but also for less wear and lower fuel consumption per hectare. In this year, a new potato potter, the CP42, was tested in collaboration with Miedema. We also invested in more spraying capacity in 2008. We bought a new Dammann trailed sprayer with a 10,000 liter spray tank. In this way, the capacity per day could be increased by half (from 100 ha to 150 ha per day).
2008 Start of precision farming
At the beginning of 2008, precision farming started at our company. First, the Fendt 930 was equipped with an automatic steering system from Reichhardt. This ensures that the overlap remains as small as possible, minimizing the costs of labor, wear and fuel. The new Dammann sprayer was also equipped with six Greenseekers sensors that can measure the leaf green in the potato plant. Based on these data, additional fertilization is carried out with liquid nitrogen. The syringe is also equipped with automatic section sealing to minimize overlap.
2009
In 2009 we became an importer of the German GPS system 'Reichhardt'. We have also exchanged the washing machine for a new machine, which has more capacity but, above all, better functioning. Capacity has increased from 90 tons per hour to 150 tons per hour, improving the quality of washing.
In 2009, a sprinkler reel with a larger capacity and more length was purchased. It was a Bauer Rainstar E55 with a hose diameter of 140mm and a length of 460 meters. Furthermore, AVR's new potato harvester, the Puma +, has also been delivered. The old one needed to be replaced after 4 seasons.
2010
In 2010 we established the 'Making sense' partnership. We have established this partnership between WUR, TTW, BLGG and van den Borne potatoes to collect as much data from a test plot as possible and then combine it to form fertilization formulas based on precision agricultural data. In 2010, close sensing sensors were tested on the test field for a whole season. The Fritzmeier, Yara, Agleader and Greenseeker sensors are mounted on our sprayer. This data has been compared and we have concluded that it is best to use the Fritzmeier sensor for potato cultivation.
In 2010 we also started building the intermediate barn, the covering between the old storage. With the construction of the roof, it became possible to get the phytobac and the charging station covered. We have also expanded the potato storage by 5,000 tons. This is a building with three compartments. We also added a salt / clay bath to our laundry in the autumn. This allows us to sort glassy potatoes, which are potatoes with very little dry matter. We also started spreading compost on our plots in 2010. This allows us to retain more water in our soils, which provides a buffer to our potatoes in dry periods.
In order to further optimize cultivation, we also started in 2010 with a yield measurement on potato harvester. This allows us to map the results of parcels.
The yield meter was developed in collaboration with Probotiq. In this way, the yield of potatoes per field could be monitored in real time.
2011
In 2011 we started with our first soil scan. Orbit has made an initial scan of the home plot with the Dual-em. Orbit is a department of Gent University. Early in the season, with plants. We invested in a row fertilizer on the planter. This allows us to apply variable manure in every row.
Flying with UAVs has also been started to collect data from plots during the growing season. This was done in collaboration with Aurea Imaging. As a result, recordings have been made at the company for a series of the VPRO "Netherlands from above". This episode of Nederland van Boven examines how farmers are constantly optimizing their land and how each special solution in the landscape creates a new question or problem.
At the end of the season, three new dump trucks have arrived. The Krampe Big Body 900 tippers are on three axles and can load 24 tons. By distributing the weight over three axles, we have an axle pressure of less than 8.5 tons per axle.
In 2011, Van den Borne invested in a phytobac to deal with chemistry in a sustainable manner. The phytobac ensures sustainable degradation of plant protection products that come from the sprayer. The phytobac is a completely closed system with no residual water. Because the filling and washing area is completely insulated, the amount of rinse water cannot be increased by rainwater. The rinsing and cleaning water is collected centrally and is pumped to a storage location. From here it is frequently sprayed over the phytobac. Because this system is fully automated, the amount of liquid sprayed over the phytobac is matched with the evaporation rate. A transparent roof is mounted on the phytobac. This roof is 50 centimeters above the substrate to obtain optimal air circulation and evaporation. The phytobac is placed in the sun and on the wind. These factors increase the evaporation capacity of the phytobac.
2012
In 2012 we purchased our own soil scanner. The EM-38MKII, in combination with our Kubota RTV, is an indispensable part of our company. With the EM-38MKII we measure our plots before planting. Then we create a number of management zones based on this data. We use the created zones during the growing season to achieve an optimal cultivation return.
Since 2012 we have been driving a Dammann tandem sprayer with 2 tanks (10000 liters and 2000 liters) for variable crop protection and foliar fertilization at section level. Six Fritzmeier Isaria sensors are also mounted on the syringe to scan the crops.
Since 2012, the Isaria sensors have also been used to spread fertilizer. By placing two sensors on the tractor, the computer can adjust the amount of fertilizer in real time. As a result, we provide more or less fertilizer where necessary. This way we can save costs and we place less burden on the environment.
International Maas Prijs 2012
In 2012, we and our company were nominated for the international mesh price. Thanks to a unique collaboration, 100 farmers and contractors with new techniques have considerably reduced the burden on the Maas with plant protection products. This is important because the Maas is a source of drinking water. As a token of appreciation, Yvon Jaspers presented the prestigious International Maasprijs from RIWA-Maas to arable farmer Van den Borne potatoes from Reusel. "You know how to approach and are far too modest," said Yvon Jaspers, who was impressed by the performance of the farmers from the Meuse river basin. The farmers' investment in the new techniques results in a usage reduction of 5-70% and a drift reduction of 55-99%, which means that much less substance is released into the water. We were nominated for this because we have built a phytobak in which our remnants of spray agents are broken down. This environmentally-friendly investment has meant that we have also won the international mesh price!
Open door day 2012
Furthermore, in 2012 there was an open door day for all interested parties. On Saturday November 10, 2012 we held an open door day in honor of the royal visit of Queen Beatrix. On this open day, all machines and buildings could be visited and guided tours were provided. They were able to take a look in the kitchen with us. This has also been gratefully used, as a company we are very happy with it.
Visit Queen 2012
The highlight of 2012 is surely the visit of Her Majesty the Queen. Queen Beatrix visited our company on November 9. She took a tour with our whole family. She has had an explanation of the applications as we use them with all our machines. Jacob then gave a short presentation about the precision farming cycle. As a company, we are very proud that Queen Beatrix visited us.
2013
In 2013 we continued to apply precision farming applications. As a result, we started spreading variable compost using the scan made by the EM-38MKII. In our opinion this gives very good results.
On one of the last days of 2013, a machine was delivered by Dammann. Before 2014 this machine will spray our fields. We bought a self-propelled 3 axle 12000 liter syringe from Dammann. This syringe also has two tanks, so that we can also dose two means variably. Thanks to the three axles that the machine has, we can achieve an axle pressure of 8.5 tons, just like the Krampe tippers.
2015
In 2015, van den Borne started a collaboration with 5 seed potato growers from the Agrico cooperative. By entering into a partnership, van den Borne guarantees the quality of the seed potatoes on the farm. Seed potato results can be exchanged to keep seed potato growers sharp on the quality delivered. By choosing growers that spread in the Netherlands, they respond to the growing virus pressure from lice. A good quality poter from sustainable cultivation and storage is important for sustainable subsequent cultivation at Van den Borne Potatoes.
2016
In 2016, we expanded our company once again with the construction of a new storage shed, which will be connected to the existing sheds by means of a roof. The new storage shed, like the other sheds, has a grid floor with underground channels. With the construction of this new storage shed, the total storage capacity on our company will be 32,000 thousand tons. By building a roof between the new shed and the existing shed, it is possible to sand or dry the potatoes dry all the time. In 2016, investments were made in the Raindancer program. Raindancer ensures that water is used in a sustainable way. When using Raindancer, a GPS location is placed on the spray gun with automatic section switching. As a result, the width of the spray gun is automatically controlled, which prevents overlap and wastage of water.
2016 Content top 50
In 2016, Jacob van den Borne and Van den Borne potatoes reached number 1 in the content top 50. According to the jury, Jacob has earned the prize given that he is the most progressive farmer in the Netherlands. In addition, he has taken a lot of financial risks with this, but because of his convincing vision he has gone for it.
Sharing knowledge and experience contributes to making the agricultural sector more sustainable, with Jacob being an example for farmers worldwide. "This young entrepreneur with a flourishing career in prospect is the 2016 Kemp topper."
2017
To accelerate the adoption of precision agriculture in the Netherlands, the Practice Center for Precision Agriculture has been established. With these innovations, we are heading for less use of water, minerals, plant protection products and resources to achieve more output (qualitative and quantitative). The innovation groups with arable farmers, arboricultural and fruit growers, open field vegetable growers and other open crops are central. Together with innovation groups, intensive work is being carried out for three years on testing the techniques and interpreting the data in practice. We also look at how the innovations and the data that are available can be used for their business operations. The experimental garden collaborates with various project partners, as project partners in the Experimental Garden for Precision Agriculture, we have in common that we are strongly at the forefront in the development of precision agriculture and making the data from it usable. The companies meet all requirements and permits to further develop these innovations.
In 2017, van den Borne potatoes was officially appointed as a flagship farm of the Mac Donalds. By producing in a sustainable way which future-oriented, this fits well in the vision of Mac Donalds.
In addition, the IOF2020 project was started in 2017, which is a project about the automation of data flows. IoF2020 is designed to bring closer together the supply and demand side of IoT technologies in the agri-food sector. Part of this is a collaboration with KPN, during this collaboration several videos were made of which are shown below and.
2018
To analyze the sampled fields more efficiently, van den Borne purchased the smart grader in 2018. This robot is able to analyze tuber samples for height, size sorting and underwater weight. With the purchase of the smart grader, the analysis of the potato samples is automated and manual work is a thing of the past.
2019
Agri drone port was established in 2019 to be able to use drones to collect field data. The flight area has 3 airport areas, each with a registered take-off and landing site of 3 by 3 meters. Since it is an official airport, the RPAS pilots must obtain permission from the harbor master to be allowed to fly. With the arrival of the airport, it is possible to collect data from test fields with drones. The map of the airport is shown below.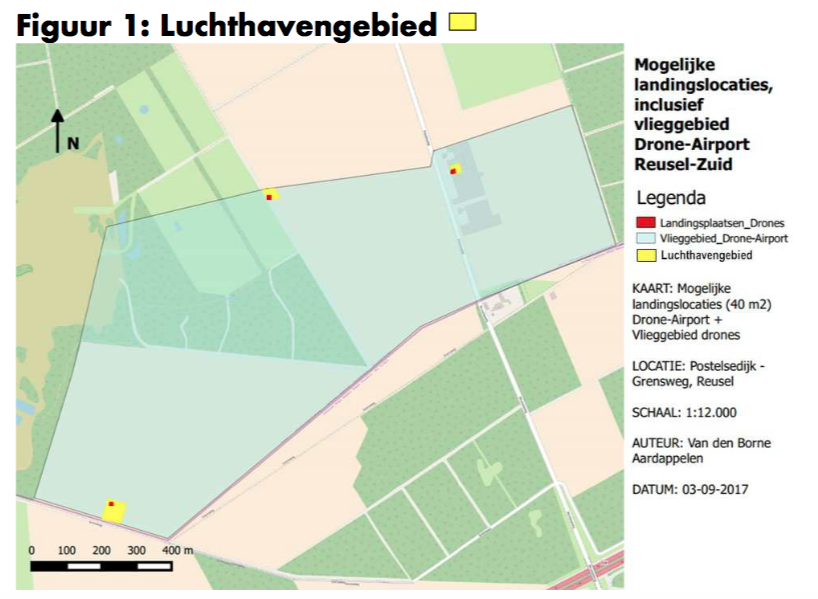 In 2019 we also started growing strips. We applied strip cultivation on one plot, experimenting with cultivation without fertilizers. In addition to cultivation without fertilizers, we also try to achieve higher biodiversity. By growing 6 different crops on different strips next to each other, we investigate the effect on biodiversity.
In addition to the use of strip cultivation, we also started with fries exactly in 2019. Fries exactly is a unique concept on the market where the breakthrough came at the Foodup! Event in Brabant. Fries exactly consists of fries which are made from potatoes, parsnips and sweet potatoes. Growing these crops in strip cultivation creates a different ecology. Fries exactly fits completely in a sustainable picture.
In 2019, the NAK installed a seed potato test with van den Borne potatoes. In this test, the NAK planted all kinds of seed potatoes in which the seed potatoes came from both sandy soils and clay soils. This test looked at the vitality of the different types of seed potatoes.
In addition, Jacob van den Borne has made various business changes: First, a spading machine with a working width of 6 meters was purchased. Widening the working width to 6 meters has the advantage that less land is driven and the soil compaction is reduced. A seed drill has been built on the 6-meter-wide spading machine, which allows sowing green manures in the autumn and preparing the spring land for planting potatoes. The potato harvesters are equipped with the AVR connect software. With the AVR connect software it is possible to collect and analyze machine data from parcels. For example, it is possible to make fuel consumption and yield maps. The yield maps are important in checking whether the variable cultivation measures have actually had an effect. In 2019, solar panels were installed on 3 sheds of the main location. These solar posts have a capacity of 500 kWh. With the use of the solar panels, van den Borne potatoes are completely self-sufficient with regard to power consumption. In addition to installing solar panels, investments have also been made in electric sprinkler pumps. The 40 hectares surrounding the main location can be electrically irrigated, whereby the pumps are driven from the energy generated by the solar panels.
2020
Until 2020, the operation of the company took place between the brothers Jan and Jacob. In 2020, Jan and Jacob together decided to follow their own course.
In 2020 Loonwerk GPS was succeeded by Soil masters. SoilMaster scans, samples and advises for optimal soil fertility. SoilMasters uses the latest advanced soil scanners to map the soil and determine the best points to sample it. The soil samples are analyzed with the unique Kinsey-Albrecht soil analysis, after which an accurate soil advice, linked to task maps, is determined. This makes it possible to work much more specifically on soil fertility and to increase the yield of crops. Soil masters was founded in collaboration with van den Borne potatoes, Fleuren tech and Soil tech.